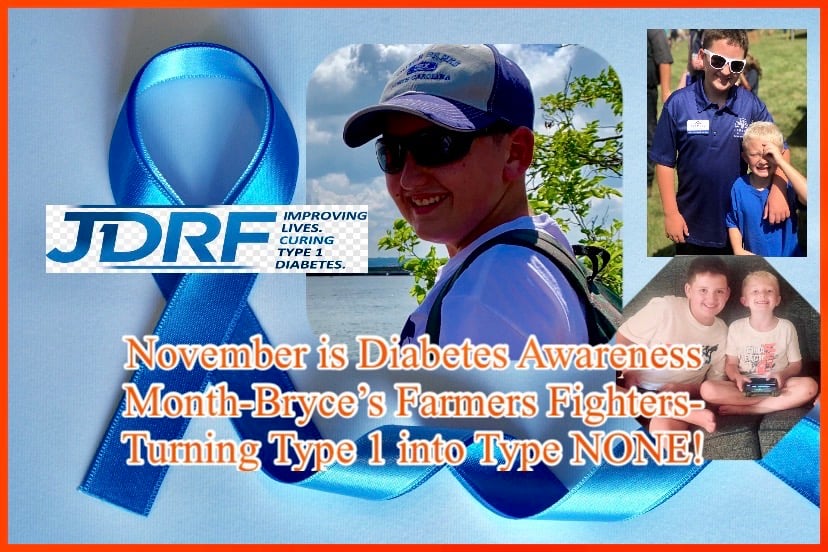 November 1 - 30, 2019
TYPE ONE DIABETES AWARENESS
November is National Diabetes Awareness Month.

Our 12-year-old son Bryce was diagnosed with Type One Diabetes (T1D/Juvenile Diabetes) in March of 2018. Type 1 Diabetes is often misinterpreted or unheard of - T1D is an auto-immune disease where the pancreas produces no insulin. Insulin is a hormone that allows the body to allow sugar (glucose) to enter the cells to produce energy. EVERYONE NEEDS INSULIN TO SURVIVE! T1D is uncured, NOT SELF INFLICTED,

LIFELONG autoimmune diseases requiring around the clock management. Without careful, constant, proper care Type One Diabetes can cause severe, LIFE-THREATENING health complications.
Before our son Bryce's diagnosis we had NO knowledge of the disease, signs, symptoms etc. So today we stand as a fighting team to advocate and spread awareness for Bryce and EVERYONE else fighting against Type 1 Diabetes 24/7!

Thanks to non-profit organizations such as JDRF, people who are living with T1D are able to live longer, healthier, more "normal" lives. Inevitably turning Type one into TYPE NONE!
Will you join Bryce's Farmers Fighters in the fight against Type One Diabetes?